Further details on walks - prior to 2006
Meet 8:40 am onwards for coffee at the Café Select at Charing Cross station, to take the 9:10 train to Robertsbridge.
Charing Cross 09:10
Waterloo East 09:12
London Bridge 09:17
Robertsbridge 10:56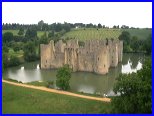 Originally suggested a few months back by Prathibha; firmed up somewhat on the Osterley Park evening walk back in July and since then a few of us have been thinking further about this - so here it is
Idea of Silent walk - is no chat on the outbound train and to the lunch stop apart from directions. Chat if desired at lunch and Bodiam castle and tea / pub stop and journey home.
Of course nothing is hard and fast so we may be flexible with our 'rules', but it'd be good I think to maybe just spend a few quiet hours with a group walking through the Sussex countryside.
Maps: Preferably Explorer 136 or alternatively LandRanger 188.
Distance:19.5km (12m)
Route: North from Robertsbridge stn. along track, then SE to Mill then N to Bugsell Mill Fm, and onto Burgh Hill to arrive at Hurst Green (6km). Lunch stop - cont E via Driftways Fm, Crossroads Fm to join Nat. Trail which heads S to Bodiam castle (7.5km) Head W via Udiam Cottages and along river Rother back to Robertsbridge(6km)
So if you 've had a strenuous week yakking or even if you haven't maybe this one is for you.
At last no problems with trains plus a fairly peaceful route.
The walk: Lenham to Charing.
Length: 13.5 km (8.4 miles)
Meet at Costa coffee - adjacent to platform 7, Victoria station - 8:45 onwards or on the 9:18 train from London Victoria to Lenham (arrives 10:30). Buy a day return to Charing. (Note - Weekend 22/23: Victoria station is only served by the Victoria Line due to track replacement works between Earls Court and Whitechapel.)
The idea is to refrain from chat on the train journey out and whilst walking.
Route: Cut across the scenic North Downs through Warren Street, Stalisfield Green, Charing Hill to finish at Charing. Lunch will be at The Plough, Stalisfield Green and tea will be at The Pilgrims Table, High Street, Charing.
---
Walk Reports
Four of us on this overcast day with the odd light shower. (Considering the unseasonally high levels of rainfall we have been getting this autumn, perhaps no surprise.)
Temporarily broke our silence over lunch at the White Horse, Silver Hill. After tea at Bodiam Castle we changed our original planned route along the river into Robertsbridge (flooded!), and took the higher ground to the north.
Finished off with a drink back in London. All agreed on what a good day out it had been and we must not leave it too long before our next silent walk.*
* We did leave it a long time. CW2 intervened. (The route for this walk was used for the main Robertsbridge walk in CW2.)
3 of us on this peaceful walk through the north downs. Tea at the delightful Pilgrims Table, Charing.