This section contains various information for anyone new to walking.
Clothing and accessories
Clothing
Comfortable, well broken-in walking boots with a moulded sole and good ankle-support.
Walking socks which fit well to protect your feet from blisters.
Fast-drying clothing, eg polycotton (not jeans which absorb water and are slow to dry).
Waterproof jacket and overtrousers.
Spare warm clothing (eg sweater, fleece).
In winter a warm hat and gloves (sun hat in summer).
Other
Day sack.
Water bottle (to contain a litre minimum in summer).
Spare food.
Torch, especially on short winter days.
Small first-aid kit (including Compeed or similar blister plasters).
Pencil (for writing notes in an emergency).
Sunscreen (April to September).
(When walking independently: map, compass.)
(Also sometimes useful: light trainers as spare footwear, in case your new boots prove painful!).
Whistle.
Maps
The Ordnance Survey is the premier producer and supplier of maps for the UK with a worldwide reputation for clarity and accuracy.
The OS 1:25 000 Explorer series are recommended for walking. (The 1:50 000 series are also often used by experienced walkers, but lack many details such as field boundaries.)
Walking Guides
Many walking guides are marketed covering specific walking routes / trails: Coast to Coast, Two Moors Way etc. In addition to these guides providing descriptive text of the route, they also include maps (most often OS 1:25000 strip maps highlighting the route), plus useful additional information such as accommodation and history of the area. If you are intending to embark on a long distance path then a good guide book will prove invaluable.
Cicerone is one such company that publish a large range of guidebooks for walking.
The Saturday Walkers Club website provides a huge resource of downloadable walks for Britain with descriptive text and gpx.
Using a map
For the purpose of this short guide, all examples are based on a 1:25000 scale map. (The OS Explorer series, recommended for walkers.)
Scale: For a scale of 1:25000, each unit on the map is equivalent to 25000 units on the ground.
Thus 1cm is equivalent to 25000cm (250 metres) on the ground, and it follows that:
1cm is equivalent to 25000cm (250 metres) on the ground.
4 cm is equivalent to 100000cm (1000 metres = 1 kilometre) on the ground.
The blue grid lines on the map form 1km squares, allowing you to quickly and roughly calculate distances between points.
An easy example of planning a short circular walk using an OS map.
In this example an anti-clockwise walk from Beenham has been planned. The second map shows the planned route (marked in yellow), with the reference points in the text below also marked.
Leaving The Six Bells pub at Beenham, turn right along the road in a north-westerly direction. In 200m (2.) where the road turns sharp right look out for a bridleway forking left off the lane. This turns out to be along a farm track. [Closer view of the track forking left: note the (bridleway) path signpost in bushes on the right-hand side of the track.]
Your direction across the field towards the corner of the wood (marked Greyfield Wood) will be ~west. Upon reaching the eastern most corner of the wood, you will probably have to cross over a stile or go through a gate to enter the wood to continue, direction 280°, for ~300m through the wood to then go over a footbridge (marked FB on the map) and continue in the same direction on the footpath along the southern edge1 of Ironmongers Copse.
After ~250m you reach the edge of the Copse, (3.) to emerge from the wood into a field.2
At (4.) you reach a path junction3 where you turn sharp left (partly back on yourself) crossing into a field on your left to now head in the direction 190° across the field. At this point looking south, you may also be able to see the buildings of Copyhold Farm.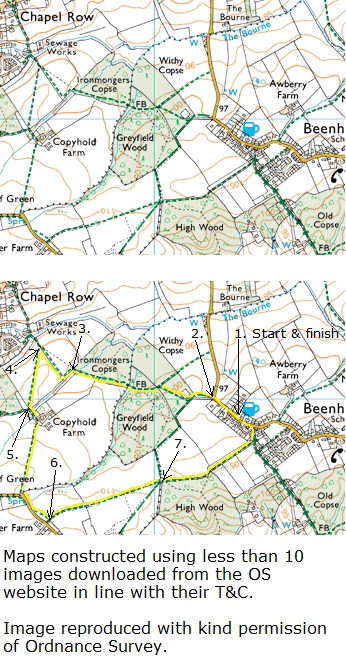 After 300m having crossed the field, you reach a path junction (5.) and veer left, direction 160° for 50m (with Copyhold Farm on your left), and then veer right to continue in your prior direction 190° across a field.
After 350m the footpath comes out onto a road, where you turn left along the road in a south-easterly direction. After ~130m fork left off the road onto a footpath running parallel to the road.
In 100m at a path junction (6.) turn left to go across two fields, your direction 80°. In 600m you reach a path junction at the north-west corner of High Wood (7.)
Continue along the footpath along the border of the field on your left and High Wood on your right. In 250m at the northern most tip of High Wood, follow the footpath across fields, your direction now 70°. After 250m the footpath joins a byway where you veer left to head north back into Beenham. In 50m at a T-junction with the main road turn left along the main road to reach your starting point, The Six Bells pub, Beenham.
---
---
---
Taking a compass reading
Align the fixed arrow on the base plate of the compass in the direction that you intend to walk.
Hold the compass at waist level, (ensuring you are clear of any metal objects such as a metal fieldgate that could affect the reading) and allow the needle to settle.
Turn the rotating face so that the red north marker lines up with the red needle.
With the arrow on the base plate pointing towards the direction that you intend to walk, you can now read off the bearing.
The compass reading for the picture below is 60 degrees.
The basics
The Countryside code is a set of guidelines to aid everyone to respect, protect and enjoy the countryside.
The code:
Be safe - plan ahead and follow any signs.
Leave gates and property as you find them.
Protect plants and animals and take your litter home.
Keep dogs under close control.
Consider other people.
Leaving gates as you find them. Often fieldgates are left open by a farmer to allow cattle to graze in a wider area. If you are part of a large walking group that can get stretched out, it is important that the leader of the group waits for the last person in the group to ensure that the gate is left as found.
Further information on the Countryside code.
Other points to consider related to walking
Crossing a field with no defined path
When crossing a ploughed field1 or a standing crop field2, with no obvious path across the field, (assuming you're confident that it is a right of way). Cross the field keeping to a single file and in a straight a line as possible, aiming for your exit point on the far side of the field. This will cause minimum disturbance plus it'll establish a clearer path for subsequent walkers.
Consider using public transport
Particularly if you live in London, then the rail system is an ideal means of getting out to the countryside for a day walk with many walking opportunities from many rural stations in the Home Counties. One advantage is that you can do a linear walks without the hassle of travelling back to pick up your car.
Particularly applies to high level walking and / or remote areas: Lake District, Scotland. Let someone know your route and approximate return time.
In cold weather conditions and / or in remote areas it is not advisable to walk on your own, plus if you get stuck then you can get cold very quickly once you stop.
Plan your outing
Don't plan too long a walk - ie given the experience and fitness of the party, the amount of daylight, the terrain and the weather conditions.
Carry a map and compass and study the route carefully beforehand. (i.e. except when on a led walk.) Come properly equipped (see section on Gear).
Check the weather forecast before you set out. Always take a waterproof. Rain, mist or fog and cold are obvious hazards, but strong winds can be a problem too, especially on exposed hillsides or coastal cliffs. Heat can also be a problem on longer walks in the summer, so don't risk dehydration - take plenty of water.
Carry some emergency food / snacks.
Pack a basic first aid kit, or have one among your group.
For more remote and /or hill walking always pack a survival bag.
If you are new to walking
Select a short walk with easy drop out points.
Select considerate companions who will be happy to cut the walk short should you feel tired.
Roads / Railways
Walking on roads. If there is no grass verge on either side of the road, keep to the right-hand side* of the road so that you may clearly see oncoming vehicles on your side of the road. On approaching a right-hand blind bend, cross over to the other side of the road to go round the blind bend. If in a group keep to a single file.
Crossing railway tracks. If there is no barrier or lights for the footpath crossing, look both ways and listen carefully before crossing. Beware the second train! Having waited for a train to pass on one track, check again on the other track to ensure that there is no train approaching, (the sound of which can be masked by the departing first train).
Crossing roads. Take care not to just follow the person in front, without carefully checking in both directions that it is safe to cross. On a busy road, the leader of a walking group should be the last to cross, so that those walkers still to cross do not feel under any pressure through concern of delaying the group. Those who have safely crossed should wait until all the group has crossed before continuing the walk.
*UK and other left-hand traffic countries.
Dealing with foot and insect problems
Blisters. If new to walking the chances are that you may experience blisters. They are natures way of providing padding to sensitive skin. Do not burst! Over time the skin in the sensitive area will harden. That said, there are various measures that you may take to help prevent / lessen the severity of blisters:
Comfortable well fitting walking boots and socks. (Before coming on a walk, ensure that your boots are broken in! If your boots have been bought recently, bring along a pair of trainers that you are used to and at the first sign of discomfort, stop and change your shoes.)
Compeed (or similar) blister plasters can cushion and lessen the impact of a developing blister.
Insect repellent – especially useful during the mid to late summer months.1
Ticks. Tiny insects often found in moist vegetation in heathlands and wooded areas. Some do carry infections which may be passed on if the tick is left attached for more than 24 hours. Effective removal can be made using fine tipped tweezers or a Tick Removal Tool1, which can be bought in good chemists and outdoor shops.